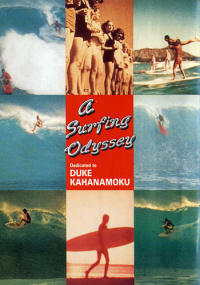 © 1987 John Phillips
A Surfing Odyssey
Come on a journey back to the early days of surfing, to when beaches were uncrowded and surfboards were 20ft long.

Witness the birth of professional surfing and the culture that grew around it.

A Surfing Odyssey is a fascinating time capsule capturing the lifestyle and ideals of the founders of one of the world's most dynamic sports.
Athletes:
Studio:
Movie Details
Rating
Not Rated
Release Year
1987
Running Time
46:48
Language
English
Compatible With

Premium Eligible
Watch Now for free with a Premium Membership, learn more
Download Details
Running Time
46:48
Screen Format
Fullframe
File Size
534.22 MB
Resolution
SD | 640x480
Language and Sound
English: Stereo
Additional Features
Chapter Markers
Streaming Details
Running Time
46:48
Screen Format
Fullframe
Resolution
SD | 640x480
Language and Sound
English: Stereo
Compatible With

| | | |
| --- | --- | --- |
| | | |
| | About | |
| | | |
| | Customer Support | |
| | Terms of Use | |
| | Privacy Policy | |
| | About | |
| | | |

| | | |
| --- | --- | --- |
| | | |
| | Channels | |
| | | |
| | TV Shows | |
| | Movies | |
| | What's New | |
| | Most Popular | |
| | Gift Certificates | |
| | | |

© 2013 - Opper Sports, Inc. All Rights Reserved.
TheSurfNetwork.com is a registered trademark of Opper Sports, Inc.
Apple TV, iPod and iTunes are registered trademarks of Apple Inc.